YEAR R 1 GALLERY
Year R/1
This Term we are looking at answering:
Why do people visit London?
                                                                                   

 Dec 2018

 
         It's Christmas jumper day! Thank you to all who brought in a donation for the Christmas jumper charity.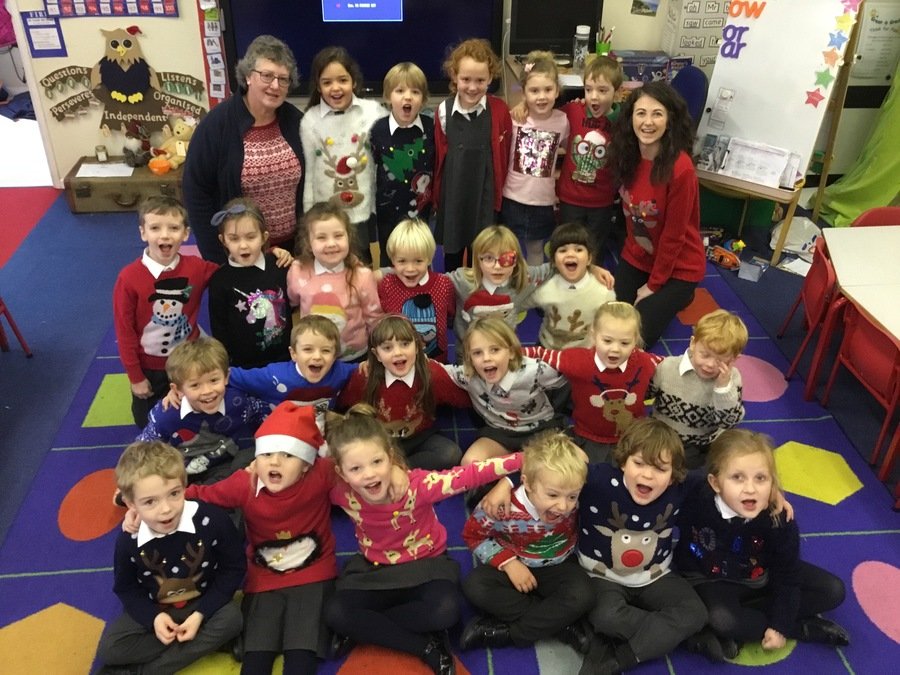 Dec 2018


         Well done to all the children who have brought in their filled bingo sheets and have been practicing their 
spellings. Over the past two weeks, we have been learning about the great fire of London that happened in 1666. 
      We have been acting out the story using our own bakery on fire, writing our own diary extract like Samuel 
Pepys did, creating our own artwork showing the houses they had made from wood and using crayons to show 
the flames burning. In forest school we have created houses out of natural materials and this week we had a 
                                                                                      real fire!
                                                          

 Nov 2018


                             Thank you to all our family who came to visit our class and read our new books with us.
                                                                                            Nov 2018
           A big congratulations to our 10 children in Year 1 who scored 10 out of 10 in their spellings last week.  
         We have had a busy two weeks using our teddies to help write our own stories of Paddington. After finding 
                Paddington's magical suitcase in the classroom, we made delicious marmalade cake, using his recipe.
                                                 

Autumn 1




                                How do superheroes make a difference?
                                                                                      

 October 2018

 
                                       To finish our topic, we have designed our own superhero capes. 
       First we chose what colour we wanted to tie dye the old bed sheets, then what shaped logo we wanted and 
    finally the colour of our letter to show what superhero we are. Thank you to all of our family who came to 
                               visit our super classroom and see us dressed head to toe as superheroes!
                                                                                     

October 2018

 
           In English we have been surprised every morning, vegetables have been tied up around our classroom. 
     We decided, making a supertato would help save our vegetables. We have helped mash evil pea's friends, 
              hammer them out of the ice and play hot seating and act like one of the superhero vegetables.
September 2018

 
These are pictures of our first forest school afternoon as a whole class. 
We enjoyed exploring our mud kitchen, creating dens, finding different leaves and working together.
                                                                            

 September 2018

 
                            Our new reception children have had lots of fun for their first full time week. 
          We have been learning our new sounds and have been exploring numbers using dice and number lines.
This summer term we have been answering the question:
What would dinosaurs and animals need to live?
June 2018
In Science, we have been learning about growing plants and what plants need to survive. We have planted our own sunflower seeds and we are undertaking a scientific experiment to see how seeds grow and what they need.
June 2018
This week during Forest School, we watched the live broadcast of Springwatch Wild Academy, which was to all schools interested. We all really enjoyed it and then went out side and built homes for the animals we saw on the broadcast.
June 2018
This week, we have 'learning all about me' and what things we need to do to keep us healthy. We tasted a variety of fruits, designed and then made our own fruit kebabs.
May 2018
During Forest School this week, Mr Macefield kindly came into school to help with the pond dipping. He is an ecologist and we all enjoyed finding out all about the animals that live in the pond and identifying what they are. Thank you Mr Macefield, it was really interesting!
May 2018
We have had a very exciting week, as we have watched our eggs hatch and then we even got a chance to hold the chicks!
May 2018
This week in Maths, we have been making amounts using money to buy two, or more dinosaurs. The challenge for Year 1 was to add 4 amounts.